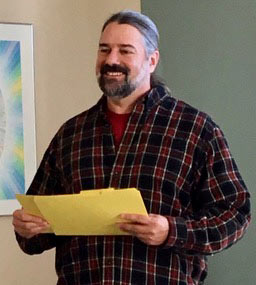 Scott Zamurut, RCST®,  is a student, practitioner, and teacher of somatic and energetic
healing arts with over 33 years of experience in the field. Scott's broad training background
includes massage therapy, Polarity Therapy, private mentoring in structural integration, group
leadership and dynamics, and ontological coaching, all of which support his current work in
Biodynamic Craniosacral Therapy (BCST), and Pre and Perinatal education and healing.
Scott entered his teaching path in 1990 with Polarity Therapy, and has also presented
seminars focused on shock resolution in addition to his current offerings. His dynamic and
hands-on classroom model is a result of 30 years of observation, practice, study, and most
importantly his extensive classroom experience.
As a student and teacher trainee in the first BCST training with Franklyn Sills, Scott is
among the longest tenured Biodynamics teachers in North America. He was also fortunate
to work extensively in the Pre and Perinatal field with Karlton Terry, who mentored
directly with William Emerson, Ph.D. These two streams of healing work are alive as the
core focus of Scott's healing and teaching practice.
Scott served as a founding board member of the Biodynamic Craniosacral Therapy
Association of North America, and is a past Vice President of the American Polarity Therapy
Association. He is based in Santa Fe, New Mexico.